The 35th round of the English Premier League features a highly anticipated matchup between Arsenal, who currently sit in second place in the standings, and Newcastle, who are in third place. Arsenal, who are fully focused on winning the title, are on the edge of a cliff and must win this game in order to continue to put pressure on Manchester City. The official odds for this game from the bookmaker are 2.20, 3.40, and 2.56, indicating that it will be difficult for the Gunners to achieve victory as the away team.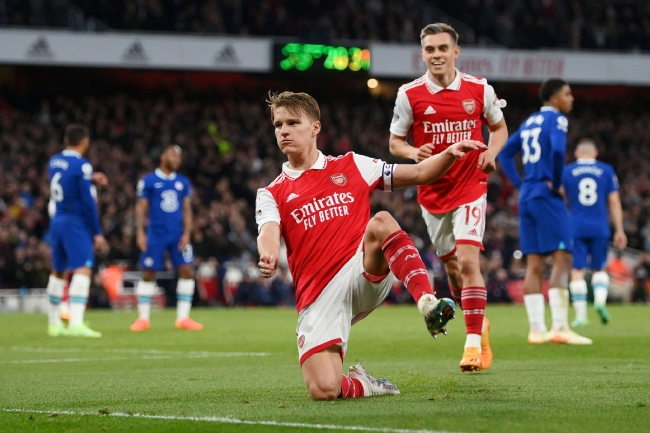 The home team Newcastle currently sits in third place in the Premier League with 65 points after 33 rounds. They only need to win six points in their remaining five matches to secure a spot in next season's Champions League. It has been a long time since they last participated in the Champions League proper, which was in the distant 2002-03 season, so they are highly motivated to return to the competition. Moreover, Newcastle's recent form has been hot, winning eight out of their last nine league matches with only one loss. In their last two encounters with Arsenal, they won one and drew one, so they have no reason to fear their opponents at home.
On the other hand, Arsenal, who currently sit in second place with 78 points, still trail league leaders Manchester City by one point, despite having played one more game. Their title aspirations are becoming increasingly difficult. In their last game, they defeated Chelsea 3-1, ending their four-game winless streak. However, losing nine points in four games has significantly impacted their title race, relinquishing the initiative to their rivals. If they fail to win points in this away match against Newcastle, it will almost certainly mean the end of their title hopes.
Additionally, Arsenal has led the Premier League for 248 days this season. If they fail to win the championship, they will become the team with the longest time leading the league in a single season but failing to win the title in Premier League history. Interestingly, the previous holder of this embarrassing record was their opponent in this match, Newcastle, who led the Premier League for 212 days in the 95/96 season but eventually lost to Manchester United.
In terms of score odds, the lowest odds for a 2-1 victory for Newcastle are 8.25 to 1, followed by a 1-0 and 2-0 victory, which are 10.5 to 1 and 14 to 1, respectively. On the Arsenal side, BA88 Sports the lowest odds for a win are 9 to 1 for a 2-1 victory. The lowest odds for a draw between the two sides are 7.5 to 1 for a 1-1 draw. From the data, the score odds are relatively close, indicating that the game is likely to be tight and Arsenal may find it difficult to win points away from home.